Image Line Updates Juice Pack To Version 2 – Three New Plug-Ins Debut
Image-Line has updated their Juice Pack bundle to version 2.0. The second generation Juice Pack, a collection of the most popular effects from FL Studio, features three new plug-ins Love Philter, Parametric EQ 2 and Wave Candy, as well as numerous bugfixes.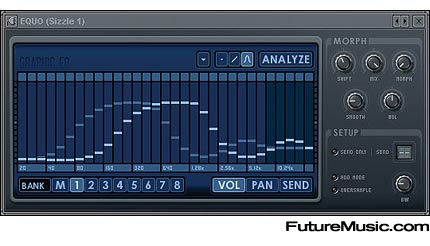 Three new plug-ins:
Love Philter – Love Philter consists of eight identical filter units, each able to be feed to the next one in the chain. It can create complex delay, gating and filtering effects.
Parametric EQ 2 – Parametric EQ 2 is an advanced 7-band parametric equalizer plugin with spectral analysis. The band type and the frequency and width of each band are fully adjustable. You can choose from High Shelf, Low Shelf, Peaking, Band Pass, Notch, Low Pass, High Pass or Band Pass filters for each band independently. There is also a global gain slider to adjust the overall volume.
Wave Candy – Wave Candy is a flexible audio analysis and visualization tool including an Oscilloscope, Spectrum Analyser and Peak Meter. The display type, colors, frequency range and dynamic range are fully customizable.
Current Plug-Ins:
Multiband Compressor – Control volume peaks and fatten sounds in 3 frequency bands.
Delay – Creates echoes with echo filtering options
Delay Bank – Creates impossibly complex echoes and filtering.
WaveShaper – Define your own distortion curves.
EQUO – Graphic Morphing EQ with spectral learning capability.
Parametric EQ – Control bandwidth and target frequency of EQ bands.
Flangus – Phase cancellation effect.
Vocoder – Sound like a robot or make a synth sound talk.
Edison – Audio recorder / editor.
Spectroman – See what your noise looks like with a sonograph or spectrograph display.
Stereo Enhancer – Simulate or enhance stereo effects.
Bugfixes:
• Fixed crash opening editor in Zynewave Podium.
• Improved idle timing in Edison.
• Fixed script problem in Edison.
• Fixed idle problem in Edison and Multiband Compressor.
• Fixed size problem in Renoise.
• Fixed small memory leak on destroy.
• Fixed crashes in Wavelab.
• Preset menu when right-clicking on Edison hint as well now.
• Small fix in Multiband Compressor.
• New version of Limiter script.
• Can now right-click hint label to select preset.
• Fixed bug using Vocoder in Live 6.
• Added Limiter script to Edison.
• Works better in Cubase VST 5.1 (EQUO doesn't show, though).
• Various small changes to clean up code, affects all plug-ins.
the Image Line Juice Pack 2.0 costs $99 and is available now. More information on the Image Line Juice Pack 2.0.