JazzMutant's New Dexter Touchscreen DAW Controller Ignites The Imagination
JazzMutant displayed their new Dexter touchscreen Digital Audio Workstation (DAW) controller at MusikMesse 2007 igniting the imaginations of musicians worldwide. Not that their previous product, the Lemur, didn't spark quite a few discussions, but the multitouch Dexter, which is DAW specific, has inched the industry closer to the future of music production. Or what we hope the future holds…
As many online debates now rage on the subject of the ultimate mixing interface, the Dexter demonstrates that a few concerns are pressing forward with the paradigm of an interface that chances to the task at hand. In our post-work discussions at the pub, many of us here would like to see a Minority Report interface, but clearly, we'll have to wait a while for that…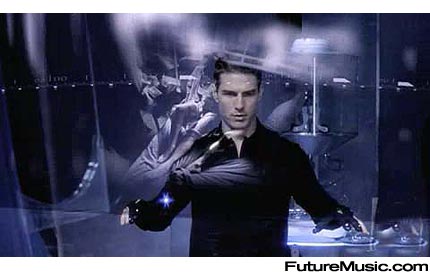 In the meantime, here's what JazzMutant is telling us about the Dexter:
Ergonomics – Dexter redefines the very interaction between Digital Audio Workstations and the users. This tablet-sized control surface has been designed with only one purpose in mind: controlling a Digital Audio Workstation by touching a user interface directly on the screen.
Intuitive workspace – JazzMutant's goal was that one glimpse from a user is all it takes to get acquainted with Dexter's workspace. Its design is crystal clear and immediately understandable. The main interface on Dexter accurately mimics the mixer of your DAW. For greater visual comfort, each individual track is drawn with a specific color that represents its current state: shades of blue differentiate active tracks from muted ones, while red or yellow backgrounds make record enabled or soloed tracks stand out from the rest.
For smarter navigation a unique set of buttons allow you to rearrange Dexter's mixer on the fly. These allow instant sorting of your channels based on your needs. For example, press the View Solo button to display only the soloed tracks on the screen. With Dexter, channels you don't need never get in your way.
Surround Sound Control – With its unique palette of tools dedicated to sound spatialization, Dexter is a dream come true for multichannel work. Its surround panner provides live monitoring of up to eight channel positions in the surround space at one time. Sound sources can naturally be moved around using the tips of your fingers in the most intuitive manner. Dexter also introduces novel ways of reshaping the whole surround soundscape through simple finger gestures. Rotation of all your sources can be achieved by manipulating the panner just like a spinning vinyl. Drag two fingers apart to spray all sources away from the center.
Instant navigation – Dexter has been designed to offer the most immediate access to any features of your Digital Audio Workstation. The Track Edit mode offers a clear overview on all the parameters of an individual channel, including graphical EQ display, effects editing, bus sends, and surround panning. Dexter also includes an arsenal of utility widgets meant to make operation extremely efficient.
Enhanced Plug-in Interface – Dexter supplies just the right tools to master all your EQs, dynamics and effects.
Unprecedented precision – JazzMutant introduces zoomable controllers with Dexter. You can now tweak the resolution you want to acheive from one controller in real time. Zoom in on your faders when you need that extra bit of precision in a mix. Zoom out when you're looking for the widest range achievable.
Compatibility – Dexter will be immediately compatible with Cubase, Nuendo, Logic Pro and Sonar. Compatibility with Pyramix and other software packages will be introduced in further updates.
The JazzMutant Dexter will be available sometime this Spring. No pricing has been announced. More information on the JazzMutant Dexter.