Apple Officially Unleashes 8 Core Mac Pro Tower
Apple has officially unleashed the world's first 3.0 GHz, 8-core Intel Xeon-based Mac Pro. We reported on several rumors of Apple's 8 Core on March 12th when the UK version of the Apple Store revealed an "8 Core Processor" option on its Mac Pro page.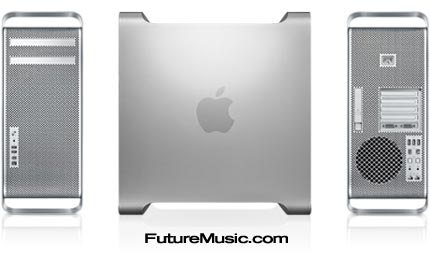 Features:
• 8-core processing: Two 3.0GHz Quad-Core Intel Xeon 5300 series processors
• Intel Core microarchitecture
• 8MB of L2 cache per processor (16MB total; each pair of cores shares 4MB)
• 128-bit SSE3 vector engine
• 64-bit data paths and registers
• Energy efficiency optimization
• 1.33GHz, 64-bit dual independent frontside buses
• 667MHz DDR2 ECC fully buffered DIMM (FB-DIMM) memory
• Up to 16GB of main memory
• 256-bit-wide memory architecture
• Double-wide, 16-lane PCI Express graphics slot
• Multiple graphics card configurations including two, three, or four NVIDIA GeForce 7300 GT cards
• 300W for up to four PCI Express graphics cards
• Support for up to eight displays1
• Support for digital resolutions up to 1920 by 1200 pixels; dual-link DVI ports support up to 2560 by 1600 pixels
• Support for analog resolutions up to 2048 by 1536 pixels
• Dual-display support for extended desktop and video mirroring modes
• Four independent 3Gb/s Serial ATA cable-free, direct-attach hard drive bays; four internal hard drive carriers included
• Up to 3TB of internal storage
• Two independent 10/100/1000BASE-T Ethernet (RJ-45) interfaces with support for jumbo frames
• Two FireWire 800 ports (one on front panel, one on back panel)
• Two FireWire 400 ports (one on front panel, one on back panel)
• Five USB 2.0 ports (two on front panel, three on back panel)
• Two USB 1.1 ports on included keyboard
• Front-panel headphone minijack and speaker
• Optical digital audio input and output TOSLINK ports
• Analog stereo line-level input and output minijacks
The base 8 Core Mac Pro Tower costs $3997 and is available now. More information on the 8 Core Mac Pro Tower.