Kyocera Unveils Bluetooth Music Gateway
Kyocera has unveiled a Bluetooth Music Gateway, a three-ounce Bluetooth device that receives streaming music via your A2DP-capable cellphone, DAP, or PMP, and then channels the stereo audio to your home stereo via a pair of stereo RCA cables.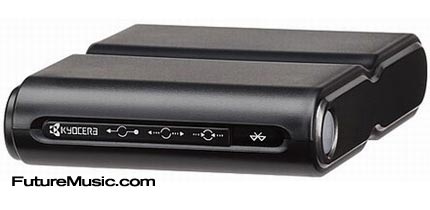 Housed in a metallic black chassis, the Gateway looks more like a radar detector then a music middleman. Users who have an AVRCP device can enjoy volume and track control right from their cellphone, eliminating the need for a separate remote.
Kyocera's also is also offering up an optional $34.99 adapter that converts any 3.5-millimeter stereo jack into a Bluetooth transmitter.
The Kyocera Bluetooth Music Gateway costs $80 beans, $99.99 with the Wireless Audio Adapter, and will be available in the near future from Kyocera.