Admiral Quality Releases Poly-Ana Virtual Analog Synth
Admiral Quality has announced the official release of Poly-Ana, the company's analog model polyphonic synthesizer. Poly-Ana uses a different approach than most other virtual analog soft-synths which the concern feels delivers a sound more authentic to the early analog synths.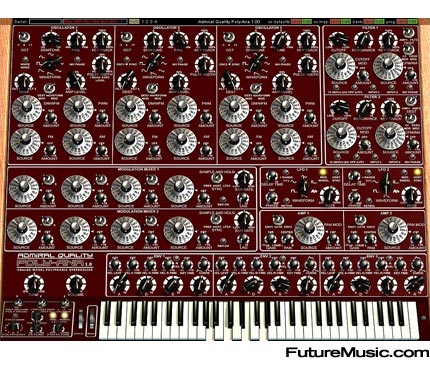 Admiral Quality's methodology requires more processing power than other soft synths, but they feel its a more accurate model of the functioning of real analog instruments. Poly-Ana's voice architecture is an combination of all the best features of the famous analog classics, plus a few new features (totaling 185 controls) marry this with a classic styled design that puts every parameter a single click away, with large, easy to grab knobs and switches that behave like the real-world items; and with no hidden drill-down menus so that each and every control is prominently displayed out where you can see it; Poly-Ana offers a true alternative in software synthesis.
The Admiral Quality Poly-Ana is available for Windows in the VST format (instrument and effect versions included) and costs $129.95. A demo version is available for download. More information on the Admiral Quality Poly-Ana.