Atomsplitter Audio Releases G8-R Gate Plug-In
Atomsplitter Audio has released G8-R, a VST Gate Effect plug-in for Windows that can be synced to tempo. With G8-R set to your hosts tempo, you can create custom patterns quickly with its various randomizing features or simply draw your own pattern by hand. The effect can be controlled using various sources including your PC's keyboard and of course MIDI input, there is also the option to play your pattern in reverse.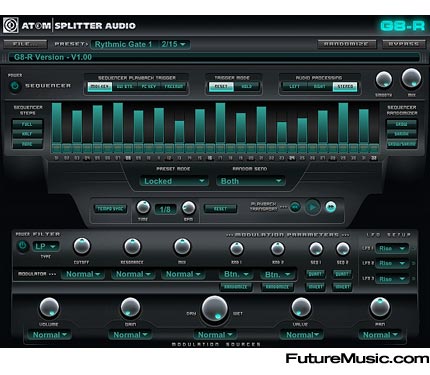 G8-R also features a filter and various global controls which can be modulated by various sources. Using this effect you can create a trance gate simply or just apply humanizing volume adjustments to your audio and save your settings for later use.
Features:
• Tempo Sync
• Randomizing options
• 4 different control methods
• Forward and reverse modes
• Built in filter and global controls
• Mono and stereo output modes
• Modulation controls
Atomsplitter Audio's G8-R costs $9.99 and is available now. A demo version is available for download. More information on the Atomsplitter Audio G8-R.