Weekend Fun: The Folding Guitar
DeVillain Guitar Company. a company from Skelleftea, Sweden, has unveiled the world's first Folding Guitar. Behind the development of the folding guitar is SAS airline pilot Fredrik Johansson. A devoted guitarist, Johansson became increasingly frustrated that he couldn't take his instrument with him on flights around the world, so he decided to take matters into his own hands.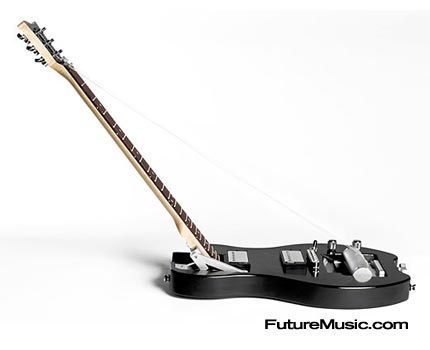 It took 10 years, but Fredrik has released a commercial folding guitar that could easily be taken on a plane, train, or automobile. The coolest thing about his invention is that you don't have to take the strings off of the guitar when you fold it — they automatically roll up inside the neck and even stay in tune when you unfold it. The DeVillain Folding guitar made its debut at MusikMesse this past week.
The DeVillain Folding Guitar costs $3370 / €2600 and is available now. More information on the DeVillain Folding Guitar.