Steinberg Introduces Sequel Digital Audio Workstation
Steinberg has introduced Sequel, an all-in-one tool that combines recording, editing, mixing and live performance features with a substantial collection of loops and sounds. From the first look, it appears Steinberg took one jar of Apple's GarageBand, a can of Ableton Live and a liberal sprinkling of Sony's Acid Pro, cooked til simmering and created a new dish dubbed Sequel. Why the name Sequel? It doesn't make a lot of sense to us either, but what the heck does Cubase mean??
Sequel packs several Steinberg audio technologies into one, intuitive one-window system that was created to get any PC or Mac user producing their own tracks in short order – even with no previous knowledge of music or production. Over 5000 loops and 600 instantly playable instruments offer a huge armory of material to produce songs in almost any of today's styles.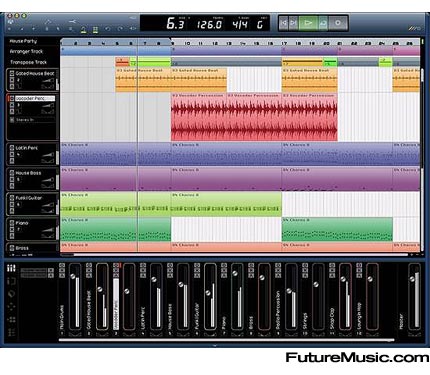 Brace yourself…here's their feature list…
Files and Formats (Import and Export):
• Recording format: Stereo WAV16-bit or 24-bit with 44.1 kHz sampling rate
• Supported file formats (import, drag & drop): WAV, AIFF, MP3, WMA, WMA Pro, OggVorbis, Standard MIDI file (SMF)
• Export: WAV, AIFC, AIFF, WAV64, OggVorbis
• Export project to iTunes: one-step mixdown/export function opens iTunes with new track in destination format (iTunes converter, including MP3, AAC, and Apple Lossless)
• CD burning provided using iTunes (pre-installed on Macs, free download for PC)
• SMF (Standard MIDI File) import and playback
Audio:
• Audio recording with up to eight simultaneous tracks
• Unlimited number of audio tracks (only limited by CPU performance)
• Audio resolution: 16-bit or 24-bit at 44.1 kHz
• Internal Resolution: 32-bit floating point
Editing:
• SmartTool changes its function depending on the mouse position. Available options: Move, Trim, Cut, Copy, Loop, and Mute/Unmute
• Audio Editor with realtime audio warp functions (realtime time stretching and pitch shifting)
• Warp Modes: Mix, Drums, Plucked, Pads, Vocals, Solo
• Key Editor for internal instruments with note event and controller editing
• Note Quantize with variable Swing
• Legato Slider for dynamic note length editing
• Step Record Mode
Mixing:
• Dynamic Track Mixer with Volume, Pan, EQ, Compressor, two variable inserts, two variable send effects
• Additional Event Effects for Instrument Tracks (Arpeggiator and Chorder)
• Master Output channel with two variable Output Effects (Inserts) plus two fixed Master Effects (Stereo Enhancer and Maximizer)
• Automation of Volume, Pan, Mute, EQ, Bypass, plus all effect parameters, and instrument quick controls in instrument tracks
Arranger:
• Realtime Arranging based on Arranger Parts; up to 15 parts can be assigned to Cue Pads for realtime arranging/remixing
• "Live Pads" or "Chain Play" modes
• Variable Jump interval (Now, 1 Beat, 1 Bar, 2 Bars, 4 Bars, End)
• Stop Pad for break/end
• Chain Play: up to 15 Chains per Project; up to 99 steps per Chain
• Realtime Transpose for audio and instrument events.
• Project Key provides fixed global transpose for entire project
• Global Transpose Track holds transpose events for global song transpose per bar / beat.
Effects:
• Delay: Ping Pong Delay, Stereo Delay
• Distortion: Amp Simulator, Distortion
• Dynamics: Compressor, Gate, Maximizer
• Modulation: Auto Pan, Chorus, Flanger, Phaser, Rotary, Tremolo, Vibrato
• Roomworks SE, Stereo Enhancer, Dual Filter
• Channel Equalizer: three-band with Lo/Hi Shelving EQ (w/ variable frequency), fully parametric mid-band with variable frequency and Q.
• Fixed compressor in each channel
• Two variable Track Effects (Inserts) perchannel
• Two Global Effects (Sends) per channel
• Two variable Master Track Effects (Inserts)
• Two fixed Master Effects: Stereo Enhancer, Maximizer (Inserts)
Instruments:
• Integrated virtual instruments with hundreds of presets
• Up to 128-voice polyphony (defined by preset)
• Quick Control editing per track
• New sounds can be saved as track presets
• Arpeggiator, Chorder
Content:
• More than 5000 Loops (2000 instrument loops, 3000 audio loops)
• More than 600 instrument presets
• More than 50 audio track presets
• More than 150 effects presets
Steinberg's Sequel is now available for $99 / €99. More information on Steinberg Sequel.