Korg Introduces KM-402 and KM-202 Kaoss Pad DJ Mixers
Korg Continues To Wake From Their Hibernation With Kaoss Infused DJ Mixers
Korg has introduced two new DJ mixers with a built-in Kaoss Pad, the KM-402 and KM-202 Kaoss Mixers. The duo merges the effects and tactile interface of the Kaoss Pad, six different types of EQ, and an adjustable cross-fader curve to deliver a dynamic new option for DJs.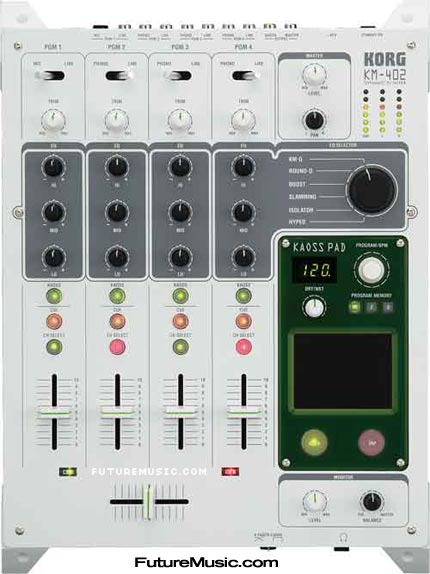 The two-channel KM-202 and four-channel KM-402 combine the Kaoss Pad's effects and interface with a 24-bit digital DJ mixer complete with adjustable crossfader. Their streamlined design and integrated Kaoss Pad sets a new standard for a Korg integrated mixer/effects processor. With one hundred effect programs, a Program Memory key for quick save and instant recall of your favorite programs, an FX Releae function that keeps delay and reverb tails intact through preset changes, and a Kaoss button for assigning the Kaoss Pad to each channel.
The KM-402/KM-202 integrate one hundred powerful effects from the KP3 Kaoss Pad. The effects range from filters, phasers, delays, and reverbs, to unique effects such as a real-time looper and synth section.
The included presets combine simple elements such as delays and filters in new exciting ways to provide a wealth of inspiration. With the Kaoss Pad's unique ability to touch your effects, the KM-402 / KM-202 provides a new mixer interface that the concern hopes will elevate the DJ's performance.
EQ manipulation is a staple of DJ performance. In response to this need, the new mixers take advantage of full-digital processing to provide six different EQ types to suit any sound, from powerful high-pass filters, to unique Hyped and Isolator EQ curves. Each channel has a dedicated three-band EQ (Hi/Mid/Low) that responds in different ways according to whatever EQ curve is currently selected via a simple six-position selector.
These EQ types have been created based on the opinions of numerous famous artists, and include EQ curves that cut only the low-frequency region while boosting the mid-range, as well as extremely drastic EQ types that use the knobs as isolators for each frequency band. This capability means that the EQ knobs are now a core element of your DJ performance, and take advantage of the integration with the Kaoss effects to create performances that use EQ in a new and unique way.
The adjustable cross-fader curves and calibration function let you set up the mixer to your personal style. Whether you're mixing dual decks, triggering from a laptop or integrating other sound sources, the Kaoss Mixer adapts to your style and personal touch.
Features:
• The KM-402 offers four channels, while the KM-202 supplies two channels.
• Integrated effects from the acclaimed KP3 Kaoss pad used by DJs and musicians around the world.
• One hundred effects add unlimited creativity to your DJ sets.
• FX Release function allows reverb and delay tails to smoothly decay through preset and effect changes.
• Kaoss Button on each channel for quick, independent control of your effects.
• A full 24-bit digital mixer delivers huge headroom and pristine audio quality.
• Six independent types of EQ deliver unparalleled flexibility to shape your sound, your way.
• Programmable Cross-Fader allows you to adjust the response and curve to suit your individual needs.
• Jack guard prevents damage to the I/O section
Pricing and availability have not been officially announced. Korg's website doesn't have squat on these new releases, but… More information on the Korg KM-402 & KM-202 Kaoss Pad DJ Mixers.