Ortofon Announces Arkiv and Nightclub II Turntable Cartridges
Ortofon has announced two new turntable cartridges, the Arkiv, a product that facilitates high quality transcription of vinyl to digital formats, and the Nightclub II, an update that boasts numerous improvements.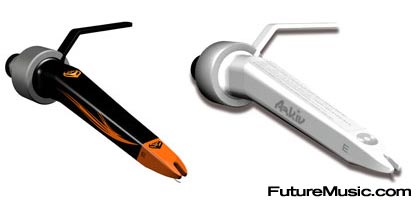 Ortofon claims the Arkiv provides accurate sound reproduction, with pristine highs and stereo imaging, to provide optimal quality when transferring vinyl to PC, CD, or other digital storage media. With the overwhelming popularity of time coded vinyl solutions, PC-based music production/sampling, and personal digital music players, the Arkiv was created to extract every last detail from vinyl records before they are finally transcribed into the digital domain. (Sounds more like marketing than innovation to us…)
The Nightclub II features a re-engineered stylus and cartridge body, and increased output voltage that requires less gain, providing cleaner sound reproduction and less susceptibility to feedback in live environments. Adding to the allure of the Nightclub II is its redesigned cosmetics, sporting an orange stylus and detailing on the cartridge body itself.
The Nightclub II and Arkiv will both be available from Ortofon retailers in early Q2 of 2007 and will be available in both Concorde and OM configurations. More information on the Ortofon Arkiv and Nightclub II.