Ecler Evo5 – Could This Be The Best New Mixer Of The Year?
Ecler the Spanish concern, is getting ready to drop what could be the best new mixer of the year at MusikMesse on Wednesday. They've set up a cheeky website with a countdown timer, but pictures of the Evo5 have been popping up all over the web like weeds.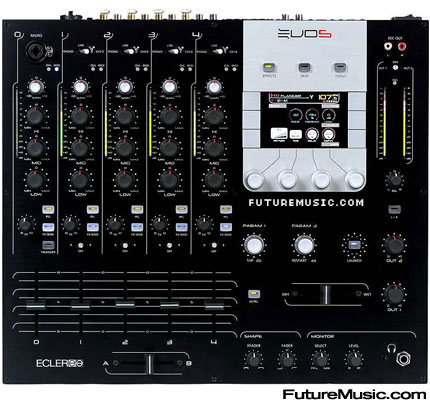 We've been very bullish on Ecler since we reviewed their Nuo4 mixer, and have been watching the company very closely. In a market where many of the biggest names Stanton are stagnating and releasing "me-too" products, Ecler has forged ahead with quality innovative mixers that push the latest digital technology to its limits without pricing it out of the hands of the common DJ.
The Evo5 contains our wish list of features starting with a 12-channel built-in soundcard, built-in effects and even more comprehensive MIDI implementation. However, instead of totally taking the wind out of Ecler's Evo5 debut with a full spec sheet, we'll just leave you with…
More information on the new Ecler Evo5.