Sinevibes Announces Space Oscillator
Sinevibes has released Space Oscillator, a unique combination of a synthesizer and a sound processor. At it's core, it has a unison oscillator with a spacious stereo sound, which can react to incoming audio in many exciting ways and is simultaneously controllable by a flexible step sequencer.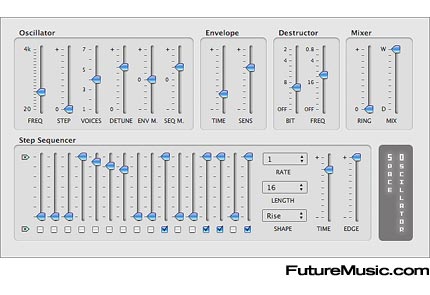 Combined with other interesting audio shaping tools, Space Oscillator allows to create new sonic textures with a lot of original character and attitude. Intergalactic strums, droid speech, organic synth and bass lines, old-school game boy sounds, rhythmic zaps and noises, extreme lo-fi glitches and much more – all now easily possible with what Space Oscillator veils under it's intuitive interface.
Sinevibes Space Oscillator is available for 29 bucks as an Audio Unit plug-in for Mac OS X (Universal Binary). More information on Sinevibes Space Oscillator.