Blue Cat Audio Updates Dynamics To Version 1.4
Blue Cat Audio has updated Blue Cat's Dynamics to version 1.4. The update introduces a new graphical user interface (GUI) and many performance and work-flow improvements.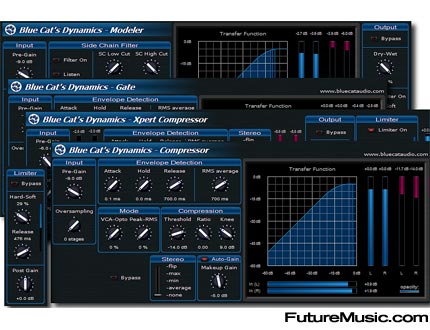 Dynamics can be used as a compressor, limiter, gate, expander or even distortion unit. You can manage the dynamics response of the plug-in with a unique two-thresholds system. The plug-in includes an input filter as well as a side chain filter, in order to control the frequencies affected by the compression. Its continuous VCA/Opto and Peak/RMS controls let you smoothly and precisely choose the behavior of the envelope detection like you have never been able to.
A brick wall limiter/clipper has been added to the output for a complete control of the dynamics response. You can use this software as a real time side chain compressor as well, thanks to its unique MIDI CC & automation output.
Enhancements:
• New graphical user interface
• Several ergonomics improvements
• Skin loading performance improvement (up to 80% faster)
• Reduced memory consumption when using several instances
• Compression graph clarity and rendering performance enhancements
• Window Opacity Management: make the plugin window transparent and see behind
• Blue Cat's Skinning Language 1.3 support
• A Bug was fixed on the stereo version – the sidechain filter did not work as expected in some situations
Blue Cat's Dynamics for Windows is currently available for an introductory price of €67.15 / $83.94 (Regular Price: €79 / $94.80). More information on Blue Cat's Dynamics 1.4.