miniMusic Releases MixPad
miniMusic has released a new portable application dubbed MixPad. The software plays standard MIDI files on any Palm-powered handheld or phone, allowing users to remix the songs as they play. This first version of MixPad plays and mixes MIDI files, though a "pro" version of the software will be available later this Spring adding recording and editing capabilities.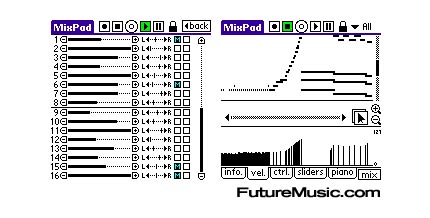 Songs can be played on most modern devices using miniMusic's Krikit Audio Engine for rich polyphonic audio. The handheld device or phone must be running Palm OS version 3.5 or higher (Palm OS 5.0 or higher is needed to use the Krikit Audio Engine). Some handhelds can be connected to external music hardware like synthesizers, samplers or tone modules and MixPad can control those. Handheld computers with dedicated sound cards are also supported, including models from Sony, Tapwave and Handspring. The mixing board inside the software can adjust the volume and panning of individual instruments while a song plays, or solo or mute tracks. Since MixPad uses the Krikit Synth, you can use sounds designed with miniMusic's SoundPad to play songs in MixPad.
MixPad is available now for an introductory price of $19.95 ($29.95). MixPad is also included in the miniMusic Pro Suite, bundled with the NotePad, BeatPad, AxisPad, and SoundPad applications; the suite retails for $89.95. A free demo of MixPad is currently available for download. More information on the miniMusic MixPad.