Metric Halo Updates ChannelStrip To Version 2.2
Metric Halo has updated their ChannelStrip|TDM and ChannelStrip|RTAS to version 2.2. The update provides many significant enhancements and bug fixes. Originally developed in 1998, ChannelStrip is a plug-in that brings classic, large format console-style channel processing to Pro Tools. With the first 48-bit EQ on the platform, ChannelStrip has been a critical tool for professional recording engineers, producers, composers and musicians worldwide.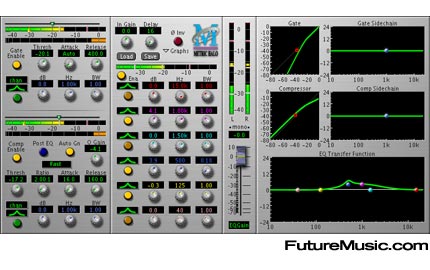 ChannelStrip 2.2 is a Universal Binary, and supports Pro Tools 6.4 – 7.3 on both PPC and Intel Macs. ChannelStrip 2.2 also provides complete support for HD|Accel DSPs and PCIe cards on all Mac platforms. In addition to extending ChannelStrip support to PCIe cards and HD|Accel DSPs, ChannelStrip continues to support Mix and HD systems.
Enhancements:
• Support for plug-in clip-light and system wide clip indicator reset
• Support for Accel chips and 192k on TDM Accel systems
• Complete page table support for all supported control surfaces
• Universal Binary support for TDM and RTAS
• 16/8/4 mono instances per Accel chip at 1x/2x/4x rates
Bug Fixes:
• Fixed Gate bug at 96k on Mix and HD systems
• Fixed lack of support of PCIe systems
• Fixed DSP chip allocation bug
• Fixed window resize bug
To celebrate this major release, Metric Halo is holding a ChannelStrip "Accelebration." For a limited time, (from March 14 to April 14, 2007) Metric Halo is reducing the price of new ChannelStrip|TDM licenses to $499 and new ChannelStrip|RTAS licenses to $249 – a 25% savings.
The Metric Halo ChannelStrip 2.2 update is now available for free to all registered OS X users of ChannelStrip. A free 12-day fully functional demo is also available. More information on the Metric Halo ChannelStrip 2.2 update.