SoundField Announces SPS200 Surround Mic
SoundField has announced the SoundField SPS200 A-Format microphone for stereo and 5.1 surround recording. The compelling SoundField technology is based on a microphone with a patented four capsule tetrahedral array and a matching SoundField preamp/processor unit. The preamp/processor assembles and coordinates the raw mic signals into a three dimensional acoustical model of the real acoustical event. It's best feature is that it is both backward and forward compatible (mono to stereo to 5.1 to 10.1 and back again) without phase error. The technology is so dynamic you can change the location of the microphone after you have recorded the event…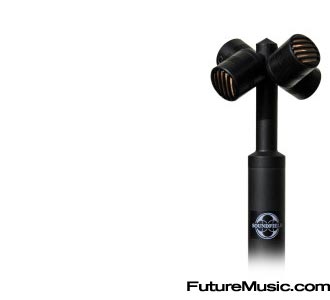 This is the first compact and lightweight SoundField microphone that does not require an accompanying outboard control unit, the SPS200 A-Format microphone relies solely on software for all format conversion, decoding and manipulation. The SoundField Conversion Lounge plug-in handles A to B-Format conversion and the SoundField Surround Zone plug-in looks after all aspects associated with stereo and surround sound decoding and manipulation.
With its four low-noise, studio grade condenser capsules and weighs-in at less than 8 ounces (220 grams), the SPS200 provides the ability to capture 5.1, 6.1, 7.1-channel audio and simultaneous stereo with variable width and to continuously vary the effective polar pickup pattern and orientation without moving the microphone.
The SoundField has not announced availability or a price for the SPS200. Their website is horrendous, but here's the link for more information on the SoundField SPS200.