Polk Audio Unleashes The MiDock10 – iPod Boombox
Polk Audio has unleashed the MiDock10. This slick iPod boombox kicks out the beats via two 3.25-inch full-range drivers. It includes an auxiliary port for other players, convenient handles for portability, and C battery power.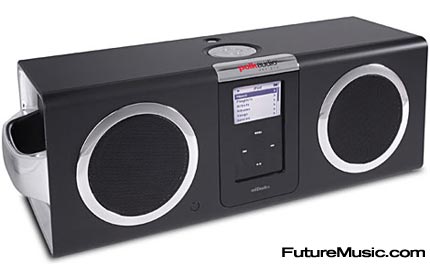 Designed to accommodate all docking iPods, the miDock10 will charge your iPod when plugged in, and can also connect to your computer with a USB cable to let you sync your iPod with iTunes. Plus, the convenient credit-card sized remote control lets you operate your iPod and miDock10 from across the room.
Features:
• Two 3.25-inch full-range drivers and ported enclosure produce high-quality stereo sound
• To keep your iPod synchronized with iTunes, you can connect your miDock10 to your computer using the USB cable supplied with your iPod
• Auxiliary input to connect other music sources
• headphone jack for private listening
• Fits all dockable iPods
• Operates on 8 C batteries, or plugs in with 12V 1.4A AC Adapter
• Three docking cradle adapters
• 12V power adapter for AC operation
• Remote Control
The Polk Audio MiDock10 will set you back 180 bills. More information on the Polk Audio MiDock10.