Odo Synths Release B-station 2 – Free VST Bass Synth
Odo Synths has released B-station 2, a free, simple but powerful bass plugin VST instrument for Windows. It has 3 oscillators, and every oscillator has a fine tune/octave/pw/volume and 5 different waveforms.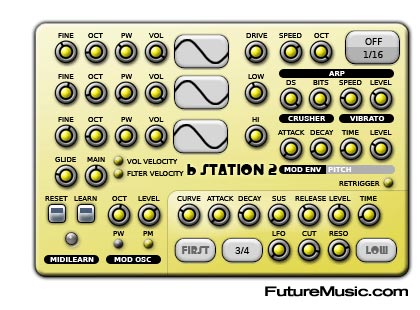 Features:
• 3 oscillators
• Arpeggiator
• Mod oscillator for Pulse width and for phase modulation
• 4 filters types: Low-pass / band-pass / hi-pass / 4-pole
• The filter has an envelope ADSRLT, 12 curves and a BPM LFO
• Modulation Envelope for pitch and Pulse width
• Vibrato, Bitcrusher, Drive, Low- / Hi-boost
• Glide / Retrigger and a master volume
• Velocity filter and volume on / off
The Odo Synths B-Station is free. The Odo website is dodgy; to find B-Station, scroll down on the homepage, it's not under VST. More information on the Odo Synths B-Station.