KResearch Updates KR-Space To Version 1.1
KResearch has updated KR-Space to version 1.1. KR-Space is their modular reverb-echoes based multi-effect plug-in which can produce a multitude of different types of effects, from traditional echoes and reverbs, to very complex soundscapes, modulation and filtering effects, resonating echoes and reflections, saturation effects and other types of effects which are not available on any commercially available plug-in of this type. In addition, KR-Space 1.1 is now available on the Mac platform.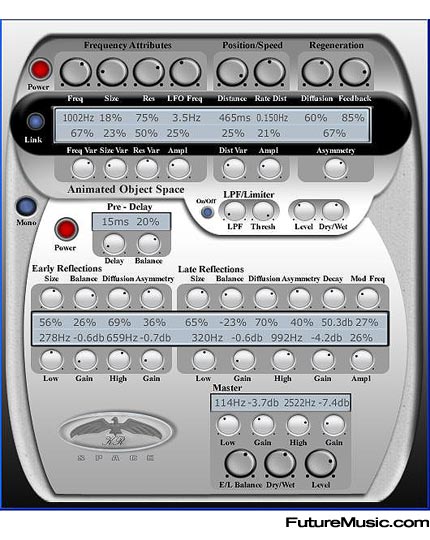 Enhancements:
• New anti-alias fonts
• Better compatibility with major hosts
• New preset format for VST cross compatibility for PC and Mac
• Compiled with our latest DSP library
• Balance knobs travel now from -50 to +50%.
KResearch's KR-Space will set you back $89 and is available now for Windows and Mac OS X (Universal Binary) in VST and Audio Units formats. Demo versions are available for evaluation. More information on the KResearch KR-Space.