Weekend Fun: "Life" Jackets
These days, the personal protection industry is bigger than ever. Two new protective jackets aim to bring some of the latest cutting-edge technology to the masses….
The No-Contact Jacket was designed by Adam Whiton and Yolita Nugent as a wearable defensive jacket to aid women in their struggle for protection from violence. In their own words: "The goal of the No-Contact Jacket is to call attention to violence against women and to offer an alternative response to the body's vulnerable space and boundaries that society, culture and fashion have created. This project enters a new realm of communication by expanding the borders between technology, visual arts, culture, product and the mass market."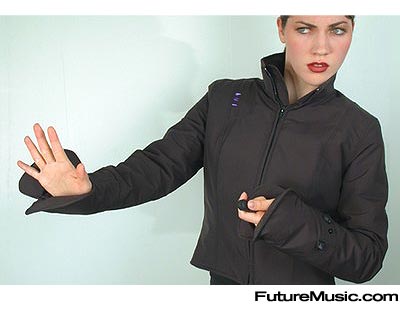 When activated by the wearer, 80,000 volts of low amperage electric current pulses just below the surface shell of the entire jacket. This exo-electric armor prevents any person from unauthorized contact with the wearer's body (click the picture above to see a demo video). If an assailant were to grab hold of the wearer the high voltage exterior would interrupt their neurological impulses which control voluntary muscle movement causing serious discomfort and pain. The distress experienced is non-lethal but is enough to effectively and immediately deter contact with the wearer and provide a critical life saving oppurtunity for escape. The only problem that we see with this device is that it needs to be turned on with a key, which means it must be armed prior to activation.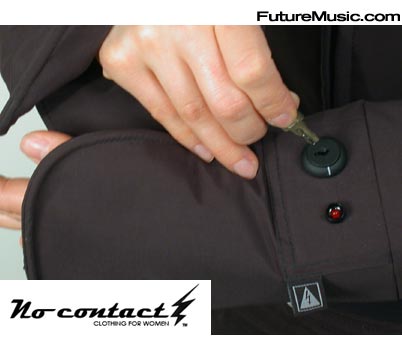 The No-Contact website does get a bit preachy, but this is certainly an excellent idea to deter an attack. Now if you could combine the No Contact with this sleekly disguised Weatherproof Bullet/Stab-Proof Jacket, you may have something that even James Bond would envy.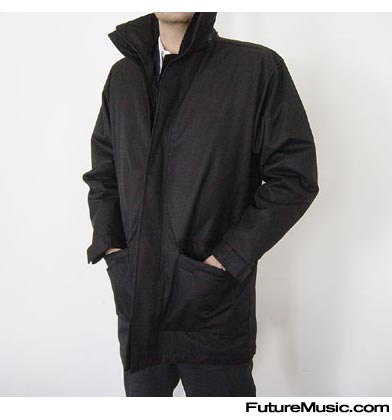 This "rain" jacket offers a protection level to NIJ STD 0101.04 level 11A and European Police Standard for tactical vests RPS B (1999), which translates into the disguised interior armour protects against: 9mm Full Metal Jacket Round Nose (FMJRN) projectiles, with a weight of 8gm (124gr) at 430 m/s. Full Metal Jacket Round Nose (FMJRN) type DM11A1B2 (DN or MEN) projectiles with a weight of 8gm (124gr) at 415m/s. 44 Magnum jacketed Soft Point (JSP) type Norma 11103/61103 projectiles with a weight of 15.6gm (158gr) at 390 m/s. 44 Magnum Jacketed Hollow Point (JHP) projectiles with a weight of 15.6gm (240gr) at 430 m/s. Eastern European Tokarev LC 7.62 x 25mm steel core projectile with a weight of 5.5gm at 455 m/s.
This jacket also protects against stabs, cuts, slashes with sharp and blunt edged weapons like hypodermic needles, ice picks, knives and broken bottles up to 25 Joules according PSDB (2003). Wow…
The No Contact Jacket is a prototype only. More information on the No Contact Jacket. The Weatherproof Bullet/Stab-Proof Jacket is available now in sizes Small to XXL for £1,250.00 Incl.VAT. Black only.