SoundToys releases SoundToys Native Effects V3
SoundToys has finally released their much-anticipated SoundToys Native Effects V3, which consists of five of their tasty plug-ins, EchoBoy, FilterFreak, PhaseMistress, Crystallizer, and Tremolator, in Audio Units, RTAS and AudioSuite plug-in formats for Mac OS X (Universal Binary).
SoundToys has finally released the lovely plug-in bits that we've been clamoring for, and did it for a great price. SoundToys Native Effects gives your mixes that pro quality, fat analog sound without the need for an expensive ProTools rig. Six analog-warm plug-ins designed by effects fanatics with a warehouse full of vintage hardware and the experience to back it up.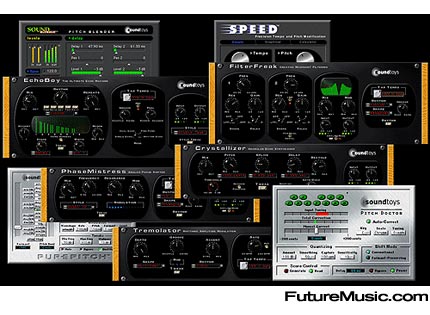 Here's what you get:
EchoBoy
EchoBoy includes 30 built-in echo styles modeled after various vintage echos, such as the warm sound of "Studio Tape", modeled after an ATR-102 half-inch two-track machine. EchoBoy provides instant access to a whole range of classics, including EchoPlex, Space Echo, Memory Man, DM-2, and the TelRay oilcan delay. EchoBoy's chorus even emulates the CE-2 chorus, considered a holy-grail of guitar chorus pedals.
FilterFreak
FilterFreak is a "fat" and "warm" resonant analog filter plug-in, designed to do all the things you do with filters. From funky envelope followers like Mutron, to classic synth style reshaping with ADSR, to big resonant LFO sweeps like the Sherman Filterbank, as well as the classic sound of the old Morley WahWah pedals. Even two flavors of the great old Sci-Fi sample and hold sound. It also has a unique Rhythm Mode that lets you create custom patterns that lock to MIDI. FilterFreak2 is included, offering two analog filters you can run serial or parallel. Each can select from Low Pass, High Pass, Band Pass and Band Reject. As well as, 2, 4, 6, or 8 pole filters.
PhaseMistress
PhaseMistress provides classic phase-shifting, emulating the likes of the Bi-Phase, Boss Super Phaser, Phase 90, to the Moogerfooger 12 stage, Small Stone, Trine and many more, with additional features those old boxes couldn't do, like MIDI sync, and a large preset library.
Crystallizer
Inspired by the Crystal Echoes preset in the Eventide H3000, Crystallizer combines granular reverse echo slicing and retro pitch processing to create a huge range of radical sonic manipulations and classics with a twist. Use it to create synth-like textures from simple acoustic guitar rhythms, lush detuned echos, or completely psychedelic pitch-shifted reverse echo effects. Great for drums, guitar, bass, sound design, electronic music, and just about anything else. If you listened to the radio in the late 80s, you've heard the original Crystal Echoes effect. It's sound was absolutely unmistakable, and was often used on an intro or at the end of a song to create a synth-like pad from simple guitar chords. Crystallizer adds a few improvements, like MIDI sync, built-in Gate/Duck control, and high-cut and low-cut filters to help tame this sometimes unruly effect. Of course, automation is also supported.
Tremolator
Tremolator emulates the tremolo effect of classic guitar amps such as the Fender, and even the great tremolo sound of the Wurlitzer electric piano. Add dynamic control of speed and depth that lets the tremolo respond to the music. Then toss in MIDI sync to lock to your tempo. The programmable Rhythm Editor let's you write custom patterns and turns this tremolo into a rhythmic auto-gate.
Speed
Speed allows simple, high-quality pitch and tempo manipulation utilizing time-varying graphic adjustments for awesome special effects. Change the tempo of drum loops. Shift the key of a bass line. Speed is the utility that lets you take control of the tempo and the pitch with three different modes to make it easy to get what you need fast and without glitchy pitch artifacts.
SoundToys Native Effects V3 costs $495. Demo versions are available for download. More information on the SoundToys Native Effects V3.