SoundGate Virtual Band Collaboration Concept
Nicolas Gonzalez Garrido has conceptualized new music PC dubbed the SoundGate. The tablet/laptop hybrid "provides musicians with tools for a new rich experience in individual learning, tutor instruction and live playing," according to Garrido.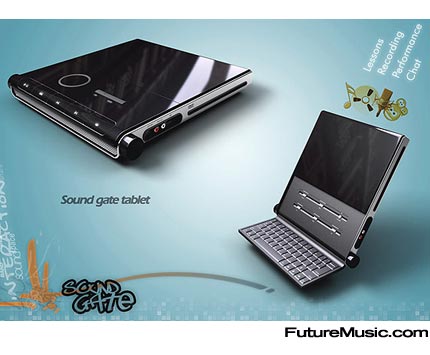 The main thrust behind the SoundGate, namely to create a virtual band by parsing each instrument to a separate speaker, is nothing new. But Garrido has breathed new life into the concept by designing an ultra-modern PC designated for this purchase, adding Internet collaboration, and including the latest DAW abilities.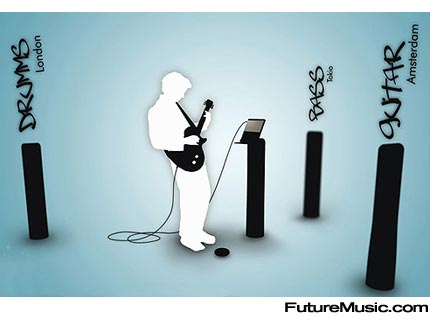 We especially like the holographic facet that's built into each speaker. An arm would desend from the side of the speaker cabinent and project the virtual guitarist, drummer, bass player, etc. who has been specified for that speaker via a Helio projection module. This is obviously a further extention of the eSession, eJamming or the Digital Musician collaborative technologies that have emerged over the last couple of years.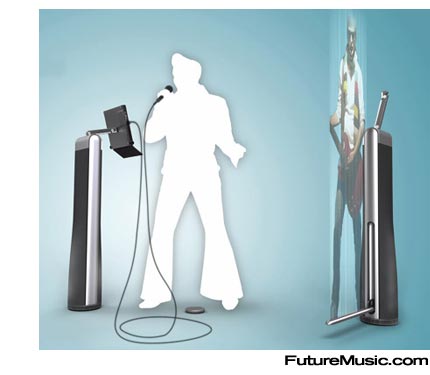 The tablet has a 10-inch touchscreen LCD and a flip-style QWERTY keyboard. A volume knob and jog dials are found inside and there's even a special stand that would let you prop the tablet in front of you for on-stage performances, or when collaborating with others over the Net.
The SoundGate PC is only a concept, but you can watch a well-made video (Windows Media) of the unit in action. More information on the SoundGate Virtual Band Music PC.