Virgin Mobile Announces Road to V Music Contest
Virgin Mobile has announced the Road to V music contest for unsigned bands with the grand prize being an opening slot for two bands at the 2007 V Festival.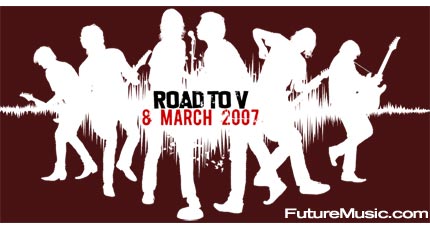 If you think your band has got "the stuff" then log on to the website below starting March 8th and you'll be able to set up your own profile, including MP3s, biogs, photos and even videos. Then it's over to the fans to comment and rate the bands.
14 finalists will be selected from the website to rip up the stages at Road to V gigs in Liverpool or London. The gigs will also be shown on the telly, on Road to V shows on Channel 4. Two winners will be chosen from the finalists by a panel of music industry experts. Their prize? The chance to rock the crowds at this year's V Festival on 18th and 19th August, at Chelmsford and Stafford. Previous winners include The Young Knives and Bombay Bicycle Club.
More information on the Road to V Music Contest.