JVC Announces HA-NCX77 Noise Canceling Earphones
JVC has announced the HA-NCX77, its first in-ear noise canceling headphones. JVC's new headphones cancel up to 80 percent (more than 14dB at 120Hz) of the background noise, with additional isolation provided by a unique new design that provides a secure fit and so helps seal out ambient sound.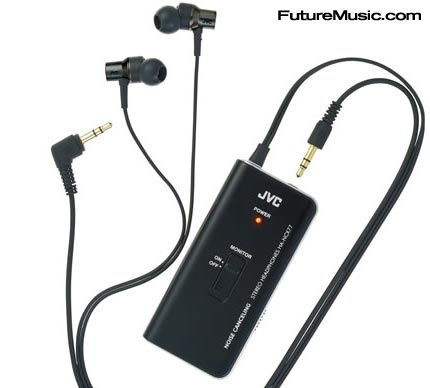 Features:
• In-line volume control
• Frequency Response: 8 – 24,000 Hz
• Powerful neodymium 8.5mm driver unit
• Up to 80% noise reduction (more than 14dB at 120Hz)
• Contoured canal design for a sure fit and maximum sound isolation
• Sensitivity: 90dB/1mW (when ON),91dB/1mW (when OFF)
• Weight: 1.94 oz
• Cord Length: 4.92 ft
• Gold plated plug
• Power supply: AAA battery x 1 (included)
• Battery Life: approximate 70 hours
• Accessories: Carrying case,AAA battery x 1,Dual plug adapter
The contoured canal design features an earpiece that's slightly angled, allowing a natural and secure fit that provides increased sound isolation. Also because of the superb ambient noise seal, precise acoustic coupling to the eardrum can be employed, thereby lowering the volume required to achieve the full sonic impact.
For conversation or listening to announcements, sound can be muted using a switch on the power supply, which uses a single AAA battery. Battery life is said to be 70 hours.
More information on the JVC HA-NCX77 noise canceling headphones.