Furman Redesigns Elite Series Power Conditioners
Furman Sound has announced a refined new look and enhanced features for its Elite Series power conditioners. The new designs feature smooth contours of black steel with clear blue LED lights, while new 12-V triggering adds remote control capabilities for convenient operation.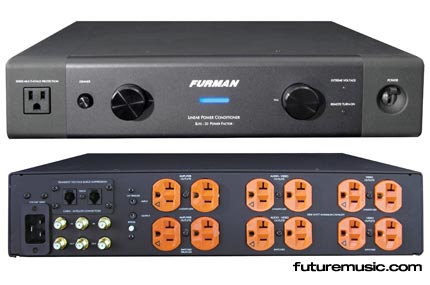 Features:
• SMP+ provides the highest level of protection available
• LiFT significantly reduces AC line noise
• E.V.S. protects equipment from dangerous overvoltage conditions
• Zero ground contamination circuitry protects critical digital components
• Power Factor Technology provides over 55 Amps peak charge surplus current for power-starved amplifiers
• Ultrasonic bi-filtering isolates digital and video circuits from analog components
• Retractable LED lamps illuminate a cabinet or rack full of equipment
• Detachable module for telco surge suppression and 3 pairs of cable / satellite TVSS isolated F-connectors
• 12 Volt triggering for remote control
The new Elite Series units will be designated with a letter "i" at the end of each model number to differentiate them from the original Elite series. The new family of power conditioners features the same level of performance customers have come to expect from Furman. However, in addition to the technologies that made the originals so
popular, such as Linear Filtering Technology (LiFT) and virtually non-sacrificial surge suppression, the Elite Series will now add 12-volt triggering for remote control.
The Future: Excellent move for Furman! Their excellent power conditioning products were always handicapped against other manufacturers on the showroom floor due to their stodgy appearance. By redesigning their Elite series for the new millennium, they will see a definite impact on their sales register. Kudos to the newly promoted Dave Keller for making this necessary upgrade happen.
Furman's Elite i-Series will begin shipping in late March with the exception of the Elite 20 PFi, which is currently shipping. More information on the Furman Elite i-Series.