Yamaha Introduces Tenori-On
Yamaha has introduced the Tenori-On, a brand-new music making concept for the new millennium. The gorgeous device is a cross between a third generation Korg Kaoss Pad, a Notron and the future.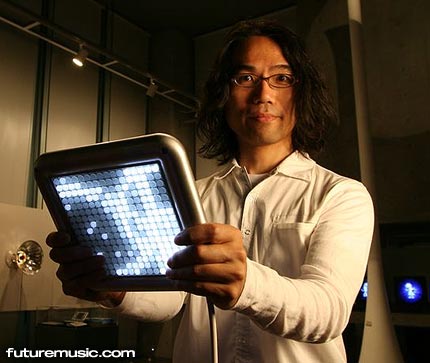 The Tenori-On was conceptualized by media artist Toshio Iwai and had its official trade-show premier this past weekend at the UK's SoundsExp07, although Iwai has been utilizing it in his performances and demonstrations for the past couple of years.
The silver Tenori-On looks like a small tablet PC with a 16×16 grid of white LEDs. The lights can be seen from both the front and the back of the unit, so an audience can take part in the visual fun as well. The Tenori-On is meant to be programmed both musically and visually. In fact, you can program the music, and then go back and program a customized visual sequence to complement what you've composed.
The Tenori-On has built-in speakers with a Motif-based tone module, and the ability to sample. The Pitch VS. Time Matrix of 16×16 lights has 16 different layers for a multitude of programming possibilities. It features MIDI I/O, a MiniJack output, and a SC card slot. Supposably, there will be built-in connectivity, via Infrared, so that you can link several Tenori-On's together.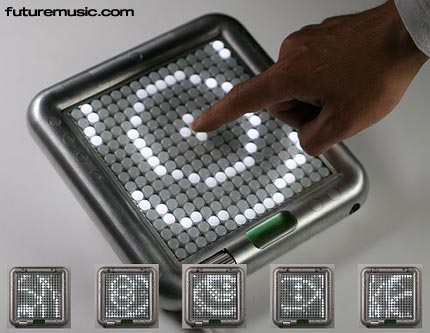 Features:
• Built-in Motif based tone-module
• Built-in speakers
• Sampling
• Pitch VS. Time Sequencing Matrix with 16 different layers
• Many different visual effects
• MIDI in and out with the ability to control of other modules
• MiniJack audio output
• SD card slot
• Runs on 6 AA batteries, or AC power
• Infrared Connectivity
The Yamaha Tenori-On will be available later this year for approximately £500. More information on the Yamaha Tenori-On.