Weekend Fun: Minty Fresh iPod Security
Here's the sob story…
It all started when my car was broken into while I was living in Boston. Smashed windows and shattered glass littered my car. Everything was taken…or so I thought. While cleaning up the glass, I noticed my digital camera on the floor of the car among some items not worth stealing. What had caused the thief to overlook my camera was the fact that it was small enough to store in a mint can, which successfully disguised the camera from him.
The moment of clarity…
Using this experience as inspiration, I set out to develop a line of theft deterrent cases that act as a disguise to protect portable electronic devices. The company is called iDisguise, and the first two of these cases have been released which are designed to look like candy tins while securely holding and disguising an Apple iPod Nano. The cases are meant to be used when an iPod is stored away and not being listened to, the time during which 98% of portable electronic theft occurs (U.S. Department of Justice, 2004). This is why you will not see any holes for a headphone jack or charge port.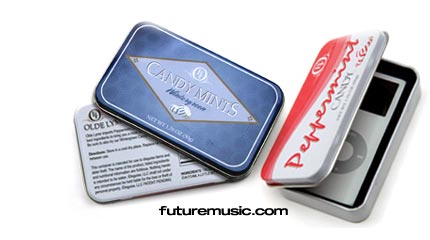 We couldn't write it any better, so there you go. This punter is turning his old Altoid Cases into "security devices" for the iPod nano. Brilliant!
Except for one thing…what if someone comes to your desk, sees the Altoid tin, and decides to snag a couple of mints…the jigs up, and the lad can score a whole lot more!
The Candy Mint Anti-theft Tins cost $9.95. More information on the Candy Mint Anti-theft Tins.