Digidesign Releases 003 Series
Digidesign has unveiled their new 003 Series, which includes a control surface and two rack enclosures. The new Digidesign 003 family, which includes 003 Factory and 003 Rack, offers professional grade I/O, high definition audio resolution, the compatibility and performance of industry standard Pro Tools software, and an unprecedented bundle of up to 80+ professional instrument and effects plugins, compatible applications, and sound libraries, including the new Pro Tools Ignition Pack 2 software collection. The new 003 gear takes its place as the flagship of the Pro Tools LE product line, delivering high-end hardware specs, features, software and tools, as well as a high level of compatibility with professional studios.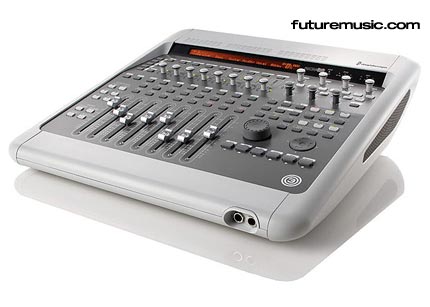 Digidesign 003 Factory
Digidesign engineers incorporated new pro-level features in the 003 that allow users to dive deeper into the power of Pro Tools than ever before. The new 003 Factory provides hands-on control of Pro Tools LE through its integrated control surface and offers an extensive array of analog and digital I/O, including MIDI, ADAT optical, and S/PDIF digital. 003 can also be synchronized with other external devices in the studio via its BNC Word Clock I/O. Eight touch-sensitive motorized faders, eight motion-sensitive rotary encoders, and a Jog/Shuttle wheel provide tactile, hands-on control of multiple elements of a mix with speed and precision, including volumes, panning, sends, inserts (plug-ins), automation control, audio and video scrubbing, and more. The 003 provides a variety of essential visual mix feedback via an LCD display and numerous LEDs, and also functions as a standalone MIDI controller, allowing it to be seamlessly switched from controlling Pro Tools to controlling other MIDI-compatible applications. And with its FireWire connectivity, the 003 ensures high-speed data transfers between compatible Windows- or Mac-based computer systems.
In addition to award-winning Pro Tools LE software, the 003 Factory includes the premium Factory software bundle, adding over $3,000 in professional Digidesign and Bomb Factory plug-ins. 003 Factory also includes the new Pro Tools Ignition Pack 2 Pro bundle, offering a comprehensive collection of powerful effects and instrument plug-ins, creative compatible applications, high-quality sounds, training tools, and helpful artist promotion services from companies such as Broadjam.com, Sonicbids.com, and GarageBand.com.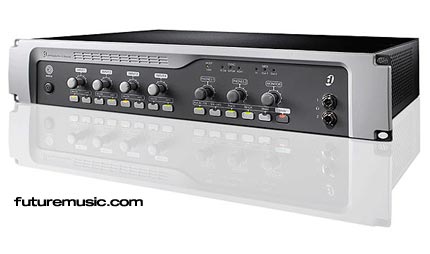 Digidesign 003 Rack and 003 Rack Factory
The 003 Rack mirrors all of the same I/O, audio capabilities, and connectivity as 003 Factory, but packages everything together in a streamlined 2U rackmount chassis. Included with the 003 Rack is Pro Tools Ignition Pack 2, which features many of the same creative software and tools found in Pro Tools Ignition Pack 2 Pro. Fraternal twin to the 003 Rack, the 003 Rack Factory features the same professional audio/MIDI interface, but adds the premium Factory software bundle and Pro Tools Ignition Pack 2 Pro.
The Digidesign 003 Factory will be available soon for $2,495 / €2599. The 003 Rack and 003 Rack Factory are available now for $1,295 / €1347 and $1,695 / €1764, respectively. More information on the new Digidesign 003 Series.