Interscope Records & James Cameron Partner On 3-D Music Content
Interscope Records and James Cameron have agreed to partner on music productions using Digital Domain's cutting-edge 3D technology. Interscope's music videos, concert films will be the first to get Cameron's treatment with additional content to follow.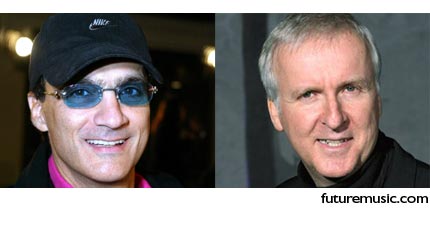 The Interscope – Geffen – A&M Records family is home to artists such as U2, Gwen Stefani, 50 Cent, Dr. Dre, Eminem, Sheryl Crow, Pussycat Dolls and many others.
The 3D content will be shot using the Fusion digital stereo camera system, developed by Cameron with Vincent Pace. The cameras duplicate human vision, putting the audience on stage with the performers. Music concerts in particular will be experienced in theaters like never before. The first concert is expected to be released theatrically within six months. Unfortunately, you still have to wear those plastic glasses to get the 3D effect.
"We're always looking for ways to improve the experience of music," said Jimmy Iovine, Chairman of Interscope Records. "When I saw what James Cameron was doing with his dedication and wizardry to the 3D platform, it seemed like the perfect combination for us to do some groundbreaking work."
The project was launched last year after Gwen Stefani's "Wind It Up" video was filmed in 3D alongside the released version. That unreleased test video so impressed Iovine that he decided to join forces with Cameron, who will provide 3D production expertise as well as proprietary equipment, while Interscope offers its artists and music expertise.
"Jimmy Iovine and I instinctively gravitated together on this because we both believe that music and media are changing, and we want to be at the cutting edge," said James Cameron. "We want to provide audiences with a more intense musical experience. 3D amplifies everything, it puts you closer to your favorite artists than you ever imagined. What we're doing can redefine the relationship between music and visual media."