Olympus Announces VJ-10 AM/FM Radio With 37 GB Hard Drive
AM/FM Radio With TiVo!
Olympus has introduced the VJ-10, an AM/FM radio with a 37 GB hard drive. Depending on the recording mode, you can record up to 2500 hours of programming (32 Kbps WMA). Even High Quality mode gives you 1250 hours (128Kbps WMA), which is plenty even if you plan on listening to this thing 24 hours a day.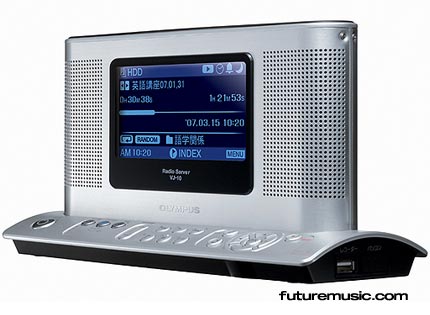 You can upload your own MP3 or WMA files via USB 2.0, or use it as an external hard drive. The VJ-10 has a roomy 3.9″ monochromatic STN screen, and features stereo speakers with SRS and WOW XT for enhanced sound quality. It has 20 presets that can be time/date programmed for TiVo-like recording.
The Olympus VJ-10 is set to bow in Japan on March 16th and will cost ¥40,000 / $335. No European or North American ship dates have been announced. More information on the Olympus VJ-10.