FXpansion Updates Orca Soft Synth (AU & RTAS)
FXpansion has released Audio Units and RTAS versions of Orca, their free experimental monosynth based on detailed and accurate models of analogue synthesizer circuits and components. FXpansion claims Orca excels at deep, squelchy basses and thick unison leads.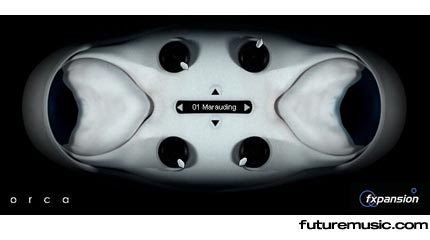 Orca has a simple subtractive synthesis structure, being comprised of an oscillator, filter, fixed amp envelope, velocity sensitive filter envelope and an amp module. The monophonic voice engine in Orca runs at twice the hosts sample rate to reduce the aliasing caused by the non-linear analog modeling of the filter and amp modules. A voice priority of newest note is used, and every new note re-triggers the amp and filter envelopes.
The key component to Orca's incredible sound comes from not only the high quality anti-aliased unison oscillator, but the asymmetric non-linear models of circuit components. When each diode is manufactured there are slight differences in them which is called component mismatch. These small variations mean that circuits like the above are asymmetric, so when you run audio signals through them you get second order harmonics which are very pleasing to the ear. These harmonics are typically labelled "warm" and "rich."
Orca is available as a VST 2.4 plug-in for Windows (XP) and OS X (10.4 PPC and Intel), and can be used in other hosts (Audio Units, RTAS) via our VST-RTAS or VST-AU Adapters.
FXpansion's Orca 1.11 is available now as a free download – registration is required. More information on the FXpansion Orca.