Katsura Shareware Releases ProPhase
Katsura Shareware has released ProPhase, a professional digital audio software tool that displays detailed information on the phase, levels and mono compatibility of stereo audio signals in real time. Designed and implemented by Hidetomo Katsura in association with recording engineer Malcolm Cecil, ProPhase is available for Mac OS X 10.4 or later.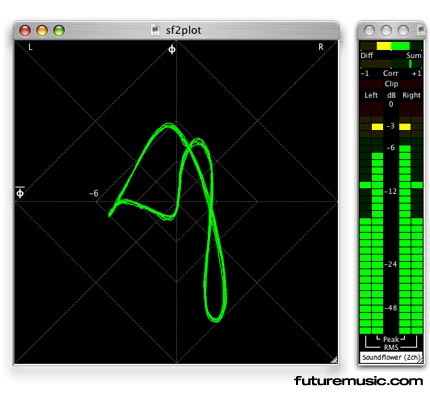 Features:
• Multiple windows (any two channels of any audio input devices)
• 30 frames per second responses
• Resizable windows
Phase Display:
• Line/Dots/Rainbow plot modes
• Plot/Grid/Background colors
• Four different XY plot types
• Linear/Logarithmic scales
• Sample slice width control
• Gain control
• Axis on/off
• Grid on/off
Level Meter:
• Peak and RMS level meters
• Sum/Difference meter
• Correlation meter
• Peak hold/decay
• Clip indicators
• Label text
Katsura Shareware's ProPhase 1.0 is available now for download as Shareware for $99. More information on Katsura Shareware ProPhase 1.0.