Weekend Fun: Racing Grannies
Need a break after a long studio session?
Well how about reving up a couple of high-octane Grandma's and having them go mano-a-mano on the track of death? The Racing Grannies set contains two 3″ octogenarians in wheelchairs and a 10-piece track. The track has two Death Crosses for extreme blowouts and two individual remotes to control the action.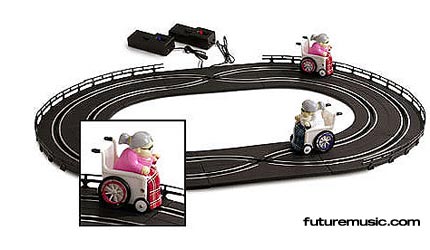 The Racing Grannies set costs $19.95. Requires four AA batteries. More information on the Racing Grannies.