IK Multimedia Ships Sonoma Wire Works' RiffWorks Standard
IK Multimedia has announced that RiffWorks Standard, by Sonoma Wire Works, is now shipping. RiffWorks Standard is guitar recording software that allows you to record efficiently, stay creative, produce high-quality songs, jam online, and podcast your tunes without ever putting down your guitar.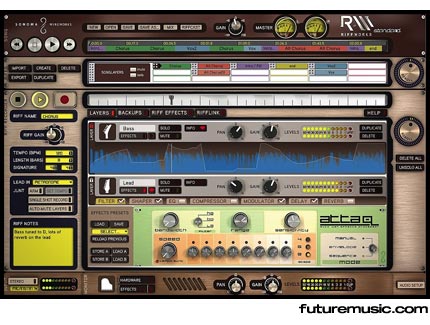 InstantDrummer
Pick a groove, count off a tempo, and InstantDrummer inspires you to play along with its continuously varying drum tracks using perfectly matched, full kit studio drum recordings. Spin the Intensity knob to set the mood from mellow to aggressive. Dial in some Variation to get a constantly evolving beat. Ambience adds room sound and Gain sets the level. No tedious editing or disappointing sounds, just a great drummer, ready to jam. InstantDrummer is an integral part of RiffWorks. Nine free InstantDrummer sessions are included with RiffWorks Standard and more are available online.
RiffWorks Features:
• Automatic Track Creation & Loop Recording
• 24 layers plus backing tracks with continuous volume control per layer
• 4 tempo-synchronized backups: InstantDrummer with adjustable intensity and variation,
• REX Player, ReWire mixer, and Metronome
• 7 studio quality effects (Wah, Multi-band compression and distortion, Modulation, Delay, Reverb, Compression, and British Style EQ)
• Guitar Amp and Effects (VST/Audio Unit) Plug-in support.
• AmpliTube 2 Live included
• Mix down to WAV or OggVorbis
• RiffCaster instant podcasting
• RiffLink online collaboration (60-day trial)
• Supports Win XP ASIO and Mac OS Core Audio Interfaces
RiffWorks Standard will retail for $169 / €139 (tax excluded) and is now available now available from all IK Multimedia distributors and dealers worldwide. More information on RiffWorks Standard.