LennarDigital Releases Version 1.2 Of Sylenth1 VSTi Synthesizer
LennarDigital has updated Sylenth1 VSTi synthesizer to version 1.2. The new version now includes an arpeggiator, a chorus/flanger effect, 250 new presets and several improvements and bugfixes.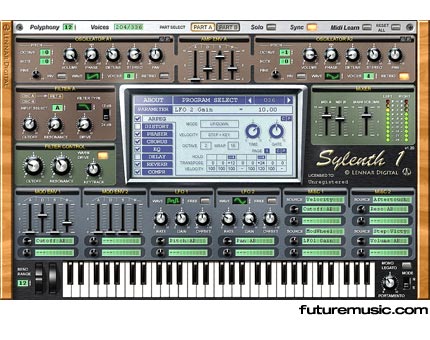 New features:
• Arpeggiator with built-in step sequencer, 10 different melodic modes, adjustable pitch, velocity and hold settings. Outputs Step Velocity as a modulation source.
• 4-Stage chorus/flanger effect with 2x oversampling, adjustable delay time, depth, rate and feedback.
• Oscillator waveform inversion option for PWM effects.
• Copy/paste buttons for oscillator- and effect settings.
• Distortion amount and step velocity added to modulation parameters.
• 250 new presets.
Bugfixes and Enhancements:
• Improved note stealing algorithm.
• Improved tri-saw oscillator waveform interpolation.
• Improved filter cutoff frequency conversion.
• Improved bandpass/highpass filters.
• Eliminated clicking effects in Mono mode.
• Fixed portamento sliding bug.
• Fixed LFO Rate modulation bug and improved frequency modulation.
• Fixed DC offset in bitcrush distortion.
• Fixed phaser feedback amplification.
• Fixed license name display bug.
• Knob behavior changed to linear.
• Updated user interface graphics.
• Updated automation parameter names.
Sylenth1 VSTi Synthesizer is free for registered users and is obtainable now for download. The price has dropped from €159 to €139. A new demo version is also available. More information on the LennarDigital Sylenth1 VSTi Synthesizer 1.2 update.