d16 Unleashes Nepheton Roland TR-808 Virtual Drum Machine
The d16 Group has announced their newest virtual classic drum machine, the Nepheton, an emulation of the Roland TR-808. Nepheton contains 16 fully synthesized instruments perfectly duplicating the banging 808 drum machine. All the nuances and details of the instruments sounds are captured perfectly. The instruments models are equipped with additional controls giving you possibility to tweak the sound much better. The can work as a standalone unit with its built-in sequencer or as a plug-in.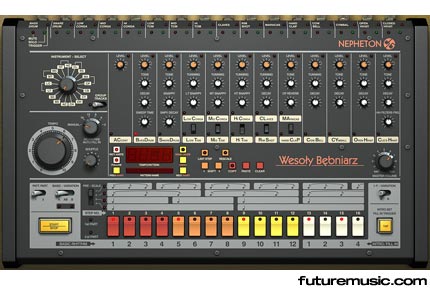 Features:
• 16 fully synthesized instruments
• perfectly scaled knob ranges
• exhanced control of instruments' sounds
• dynamic signal routing from instruments to outputs
• user defined outputs configuration
• mutes/solos for each instrument (affect triggerring not just the signal)
• preset manager
• fully controllable via MidiCC
• quick midiCC assignation with MidiLearn function
• external mode: user defined midi map (default set equal to General Midi) – MIDI tune and velocity controls instruments' levels and tunes
• two modes of synchronization: 1) precise synchronization to the host tempo, 2) synchronization to internal clock
Internal Sequencer:
• 16 patterns (12 basic rythms and 4 intros/fill ins
• pattern contains up to 4 segments (up to 16 steps per segment)
• each segment can be defined with one of four available measures
• each step can be defined normal or accented
• shuffle mode
• tap mode
• chain mode
• Shuffle defined per pattern part
• Scale function and intelligent Rescale (automatically stretches pattern to the chosen measure)
• built in Randomizer (selection of instruments to random, steps to be affected, frequency of the randomized notes and more)
• patterns import/export via human readable xml files
d16 has not announced a release date or pricing. Nepheton will be available first in VSTi format for both PC and Mac followed by AU version in short order. More information on the d16 Nepheton Roland TR-808 Virtual Drum Machine.