O'hEocha D2 Saturn Loudspeakers
No, the picture below is not a spaceship…
…this is an O'hEocha D2 Saturn Speaker made of Aircraft grade aluminium. These puppies were designed to recreate a live musical performance by delivering the sum of all three dimensional frequencies to the listener. O'hEocha believes this three-dimensional effect is often lost thorough either the recording process or poor equipment.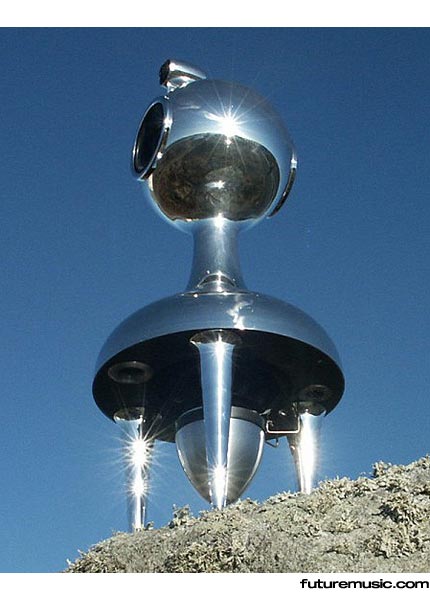 Irish concern O'hEocha was founded by Aonghus O'hEocha, who was the former group product research manager at BMW and Land Rover. Now as the Managing Director and Designer in Chief at O'heocha, Aonghus leverages his 10 years experience as a designer into creating O'heocha's organic sound creations.
The D2 Saturn is a unique speaker design that uses the most natural shape in the universe, the sphere, to virtually eliminate sound wave distortion. This is combined with a base unit which houses no less than two 11 inch aluminium drive units designed in Germany and mounted in an isobaric configuration. This arrangement produces bass produced by an enclosure twice it's size. This is akin to having two sub-woofers in your system with each one capable of being powered directly from you low frequency effects output on your surround sound receiver, with the option of bypassing the D2 Saturn internal crossover filter.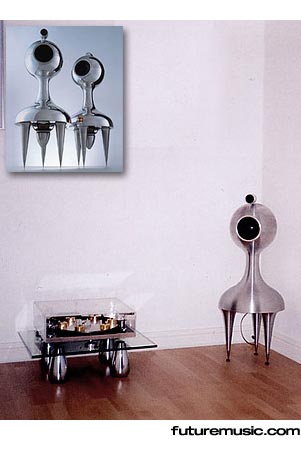 Crafting the D2 Saturn is no easy feat. Each speaker is handmade with care and attention to detail. The very best aerospace grade materials and the highest quality parts and components go into making the D2 Saturn. O'heocha takes a personal interest in every speaker that is crafted to ensure that the quality is of the highest order.
TECHNICAL SPECIFICATIONS
Speaker configuration
3 way
Structure
Cross and longitudinally braced for maximum solidity
Power Handling (Watts RMS)
200
Minimum Amplifier Rating (Watts RMS)
30
Frequency (Hz)
20Hz-25kHz
Z-Nominal Impendence (Ohms)
8
Sensitivity (dB/1 Watt@1m)
91
Crossover Points
250Hz, 4kHz
Tweeter
28mm Soft Dome Fabric
Mid Range
Front and rear firing aluminium concave cone 6.5inch
Mid Range / Bass
–
Bass
2x 280mm Aluminium sandwich coned isobarically loaded
Dimensions (H x W x D mm)
1062 x 420
Cabinet Volume (Litre)
19(a)/38(e)
Weight (kg per speaker)
25
Wiring Option
Bi-wired/ Bi-amped
The O'hEocha D2 Saturn Speakers cost $9000. More information on the O'hEocha D2 Saturn Speakers.