SendStation Unveils iPod Case Dock Extender
SendStation has unveiled an iPod Dock Extender. According to the manufacturer, the device was created to extend the port of your iPod whenever its in a protective case. Why?? Well, after the SendStation Customer Service department fielded several requests for a solution to the problem of trying to negotiate the silicon flap – the bane of several iPod owner's existence – the designers came up this the Dock Extender.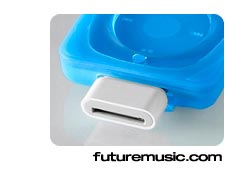 No pricing or availability has been announced. More information on the SendStation iPod Extender.