Image Line Announces Deckadance
Image Line has announced Deckadance, yet another DJ software entry into an already overcrowded market. You may know Image Line from their FL Studio (Fruity Loops), ToxicIII, Poizone, etc. products, but this is their first foray into the DJ software market. Deckadance does have some interesting features, but it still uses the same tired DJ interface.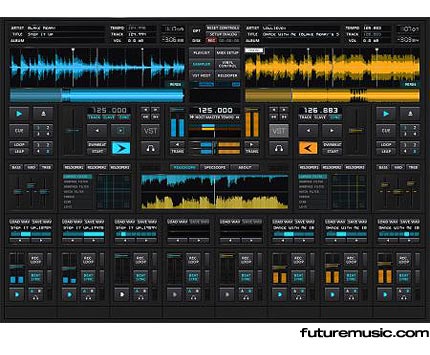 Features:
• Works as standalone or VSTi plugin inside hosts like FL Studio, Ableton Live, etc.
• Hosts VSTi softsynths & FX
• 8-slot sampler with loop, recording, beat sync, WAV, Ogg and pitchbend support and can sample from the decks
• 8-slot VSTi host with MIDI database: load up to 8 MIDI plug-ins
• 8 Slot VSTi General MIDI file Player
• 8-bit self-output-record / midi controllable microsampler
• Full timecoded Vynil & CD support for all brands
• 64-bit DSP, high quality processing
• 6 inputs (3 x Stereo deck a input tracking, deck b input tracking, mic
• 12 outputs (6 x Stereo): master mix, monitor, deck a, deck b, sampler, vsti
• Inputs and outputs pins fully ASIO configurable in the standalone version
• MP3, WAV and OGG audio tracks supported
• Seamless Loop / Cueing
• Unique Loop and Leap feature
• Unique Reverse and Leap feature
• Full low-latency vinyl tracking system supported for each deck
• Vst host midi-in thru. (ie: control hosted vst's from external keyboard/controller)
• Flexible monitoring options: pre-fader listener level, phone split (L/R). Monitor rout switch/ vumeters for all elements
• Flexible crossfader options (linear or curved mode w/curve adjustment, reverse switch)
• vSeamless "beat jump" functions
• -36dB to +12dB low/mid/high eq range control. Band kill of -48dB
• Auto-Sync buttons
• Auto-Slave to main tempo/host tempo button
• Auto Beat-Sync playback start
• Precisse pitch control
• Crossfader auto-transition control
• Crossfader with deck punch-in control
• 3 Band EQ with 3 Band killer buttons
• Deck accurate pitchbend slow/fast control
• Deck downbeat shift control
• Tempo tracking switches (for tracks with variable tempo)
Effects:
• lowpass, highpass, bandpass, bandreject filters
• 8 Tap 3d Phaser
• Variable 3d Echo/Flanger effect
• XY control pads
• That's it??
Other Features:
• Fully editable "relooper" (reslice / rearrange loop in realtime)
• Vumeters and master crossfader with embedded vumeters
• On-the-fly disk recorder
• Internal torque simulation with realistic mouse scratch/hold
• Pitch control and tempo variation feedback calculated from vinyl tracking relative speed, making bpm matching a breeze with turntable (for those who likes the real thing instead the slave mode)
Supported timecoded Vinyl & CDs
• Final Scratch
• Serato Scratch Live
• MixVibes
• MS PINKY
• all other supported through vinyl control record speed "learning" mode
MIDI Support:
• Generic MIDI control support.
• MIDI Learn with easy to configure function <-> midi control assignment.
• Native remote DJ Controller support for: Behringer BCD2000 – Hercules DJ Console – Hercules DJ Console Mk2 – Eks XP10 Controller (native HID / USB communication for full device resolution)
• Keyboard support: Full monitor routing swithes for decks, samplers and vsti host. Playlist with virtually unlimited number of entries.
No pricing or availability has been announced for Image Line's Deckadance. A Windows Demo is available. More information on Image Line's Deckadance.