Weekend Fun: Mr. Freeze's Sound System
Students of Michigan Technological University have created a 20,000-Watt sound system made of snow, wood and speakers.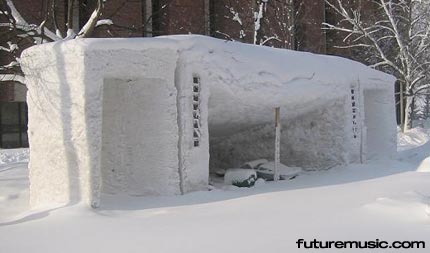 Combining a statewide snow sculpture competition and their Winter Carnival, the students created this entire sound system by hand with the sole goal of making it "Loud As &%#$!" According to a recent forum post the creators wanted to: "to saturate the county with Rock, and yes, you can hear it from quite a distance. We have gotten phone calls and police reports from miles around – some of them from places our statue isn't even pointed toward." These guys really know how to get nutty!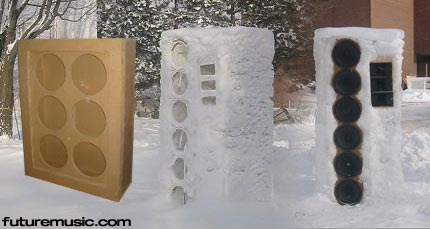 System Specs:
Music Source
Member's computer with optical out, s/pdif
Processing
Dual Behringer DCX2496 6-channel crossover/eq/etc. Fed by optical through: optical splitter -> optical/coax convertor -> standard unbalanced rca to xlr
Amplification
9 Behringer EP2500's, and 1 Crown XLS602.
Drivers
Front, per side
Highs: 8 Selenium 2″ dome compression drivers -> 1″ throat horns
Mids: 16 5″ sealed back MCM cone drivers (not horn loaded)
Midbass: 6 Selenium 15″s -> ~4′ deep snow horn with 4′-by-8′ mouth and 7′-by-2″ throat
Subbass(mono): 6 Electrovoice 18″s -> ~15′ deep snow horn with 15′-by-'ft mouth and an 18″ throat
Back, per side
Highs: 3 Eminence 2″ dome compression drivers -> 1″ throat horns
Lows: 6 Selenium/EV 15″s (not horn loaded)
Amps -> Drivers
Front
highs: Behrginer EP2500, stereo
mids: Beh-EP, stereo
midbass: two Beh-EP's running bridged, one per side
subbass: three Beh-EP's run bridged, one EP per pair of 18″s
Rear
highs: Crown XLS, stereo
lows: Beh-EP, stereo
…and 1/8 mile of wire.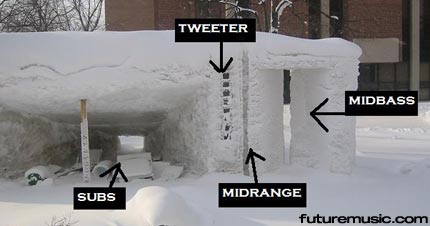 More pictures of the 20,000 Watt Snow Sound System.