Apple Readying MiniBook – Sub-Notebook Computer?
If True, This Rumor Could Invoke Serious Technolust in Digital DJs And VJs
Rumors are again swirling about a new Apple Sub-Notebook computer to be released at WWDC during the Summer. The new MiniBook is said to feature onboard NAND Flash memory and a compact wide-screen format. Although, the MiniBook is intended for the Japanese market, DJs and VJs will lust after the new computer if its performance can fuel Serato, Traktor, Arkaos and other software tools. The Flash memory will allow for immedate boot times and better battery performance.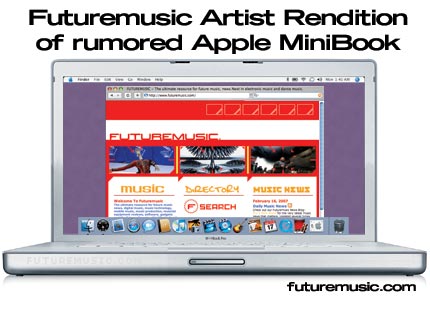 Once interesting aspect of the MiniBook is that its small size will cause it to forgo the optical internal disc drive, something that the manufacturer hasn't debuted since the original Apple sub-notebook, the PowerBook2400. However, the MiniBook should have the latest WiFi card, FireWire 400/800 and USB 2.0 ports, and maybe even a built-in iSight Camera.
Stay Tuned…