Flux Releases Solera Dynamic Processing Plug-In
Quirky French concern, Flux has unveiled their new Solera plug-in for both Mac and PC. Flux claims that Solera stems from a 10 year long ponder of compression, dynamic, loudness. And we thought that most French ponder what cheese goes with what wine…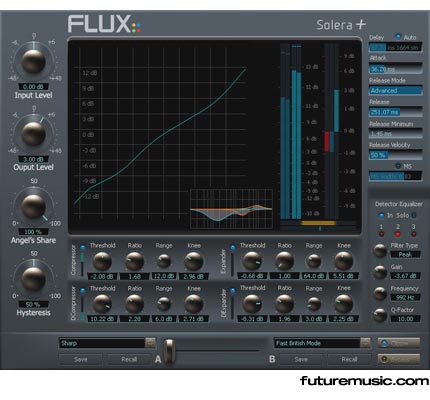 Here's Flux's thought process in their own words:
How to make a compressor, which can add loudness whilst keeping some airiness in the sound, which retains fast transients, subtle distinction and undertone? How to make a processor that can retrieve lost dynamic? Or just to be able to add contrast, to increase low-level ambiance or to sharpen the sound etc. How can we imagine processing the dynamic without taking into account the sound Level? How to compress the sound steadily without losing the "nuance" and pumping? Provocative, no?
They claim that their new Solera attempts to answer all these questions.
Solera is the flagship of the Flux Dynamic Processor family. It is primarily designed for mastering and re-mastering applications. However, it can also be used as a regular dynamic processor for superior sonic quality and distortion free operations. Every Flux Dynamic Processor plug-in uses some exclusive algorithms that endow it with an incredibly clear and natural sound. So the Solera is well-endowed? Or is this just more French posturing? You be the judge…
The Flux Solera dynamic processor retails for €470 / $609.15. More information about the Flux Solera.