Evesham Unveils Sound Stage X1 – Surround Sound TV Stand
From the Why Didn't I Think Of This file…
Evesham has announced a brilliant product that combines a surround sound speaker system and a TV Stand. Dubbed the Sound Stage X1, the glossy black and glass stand uses the concept of surround sound recreation by reflecting the sound off of your room walls to create phantom rear channels. When you want to run in Stealth Mode you can place covers over the nine speakers for a seamless look.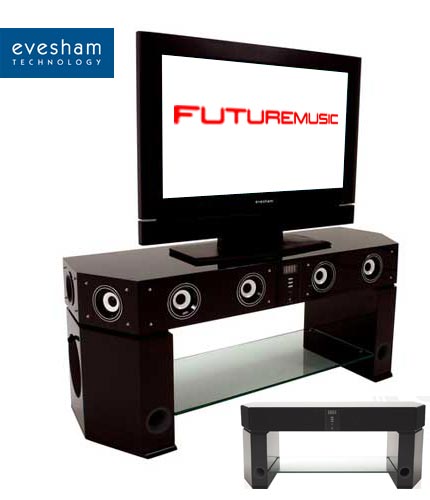 The nice speakers include a 50W subwoofer, two 20W center speakers, four 30W front speakers, and two 30W "rear speakers" with a claimed frequency responds of 25Hz-20KHz. Everything is pre-wired and set up so the Sound Stage X1 is ready to go straight out of the box. There's even a mini jack input for your portable music player or another device.
The Sound Stage X1 costs £299.99, and is currently back-ordered. More information on the Evesham Sound Stage X1 Surround Sound TV Stand.