Linplug Updates Alpha To Version 3
Linplug has updated their Alpha soft synth to Version 3. Alpha is a soft synth that touts its simplicity as its major attribute. However, Linplug loves to chest-pound over the fact that Alpha 3 allows Frequency Modulation of the Filters Cutoff. The source of the Filter FM can be any oscillator, even noise. Together with the Ringmodulator which can be gradually morphed from pure Oscillator 2 over Amplitude-Modulation to Ring-Modulation.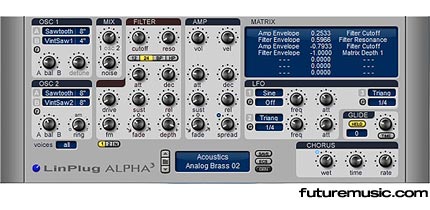 Features:
• 2 Oscillators with numerous waveforms
• PWM (symmetry of all waveforms modulatable)
• Extended Ringmodulation (modulatable Off-AM-RM)
• Spread (5 detuned oscillators per voice, adjustable)
• Rich sounding multimode filter with saturation
• Switchable freerun for both oscillators
• dedicated filter ADSFR envelope
• Noise Oscillator
• Amplifier section with dedicated ADSFR envelope
• 7 slot Modulation Matrix, 19 sources, 18 destinations
• 3 individual LFOs with tweakable attack time, speed (syncable), multiple shapes, switchable freerun
• Portamento / Glide with various modes adjustable Chorus, no other effects (intentionally)
• Powerfull ECS (MIDI learn for almost all Controllers)
• 32 voice polyphonic (adjustable), true mono mode
• sample accurate processing, total recall
• direct access to all banks and presets
• Global tuning and Microtonal support
• all controls automatable
Linplug's Alpha 3 is available as an AU and VST plug-in instrument for Mac and PC for $99 / €79. More information on the Linplug Alpha 3.