Bitnotic Unleashes The VX-323 Speech Synthesizer
Bitnotic has released the VX-323 Speech Synthesizer, a free software instrument that plays real-time synthesized speech in response to MIDI commands. The program features an easy-to-use interface, flexible instrument setup, and high-quality audio output.
Features:
• Use any Apple Text to Speech (Macintalk) voice on your Mac
• Flexible pitch, voice, phrase, and expression setup
• Record CD-quality, dynamic stereo AIFF files
• Robust MIDI implementation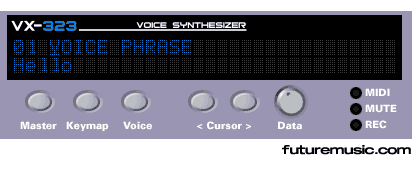 The LCD displays the settings and options for the instrument. Use the buttons or your Mac keyboard to navigate the LCD and change instrument settings. LCD commands are divided into three areas: Master, Keymap, and Voice. Master settings determine master mix, MIDI, and other settings. Use Keymaps to divide the keyboard range into different sections, each with independent mix and voice settings. Voice specifies what will be spoken, in what style, by which voice. You can assemble multiple instruments into a rack. Each instrument within the rack has its own independent MIDI, keymap, voice, text, mix, and other settings.
The Bitnotic VX-323 is available for Mac OSX (Universal Binary) for free! More information on the Bitnotic VX-323 Speech Synthesizer.