Acon Digital Media Releases AudioLava – Vinyl Restoration Software
Acon Digital Media has released AudioLava, a utility to prepare vinyl and cassette recordings for digital transfer. Acon Digital Media claims AudioLava can automatically remove noise such as tape hiss or clicks and crackle on LP records and contains filters and effects that are otherwise only found in expensive audio editing software for making optimum recordings.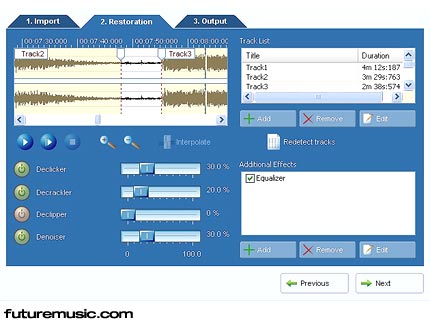 Even users new to audio editing can easily and in short time record and clean up old recordings. The user friendly Cleaning Wizard helps to find the best way to bring old recordings back to life and guides the user through all the steps from recording and
track splitting to restoration and CD burning.
The digital emulation of phono preamplifiers makes it possible to connect ordinary record players directly to the sound card input.
AudioLava automatically splits recordings into separate tracks, which can also be edited manually. A large set of effects and filters are included, ranging from reverb and equalizer to synthesis of missing high frequency content (treble). Plug-ins in the
DirectX or VST format are supported. The real time processing of the filters and effects simplifies the fine tuning of the filters and enhances the workflow. The restored recordings can be burned directly on CDs or saved as audio files on the computer in a
variety of formats, including WAV and MP3.
Acon Digital Media's AudioLava is available for $24.90 via the company's website. A free 30-day trial is also available. More information on Acon Digital Media AudioLava.