Sony Ericsson Officially Announces W880 & W610 Walkman Phones
Sony Ericsson has officially announced the W880 and W610 Walkman phones. The joint concern also announced a suite of music accessories. At just 9.4mm thin, the W880 is the slimmest Sony Ericsson phone yet and combines the full Walkman phone experience with a device that fits easily into your pocket. The included 1GB Memory Stick Micro (M2) allows storage of up to 900 full length tracks, while the host of innovative music applications (such as Walkman Player 2.0 & Disc2Phone) make it easy to transfer and search play lists for your favorite music tracks. All of this, plus a 2.0 megapixel camera, is packed into a UMTS phone that's as slim as a standard CD case.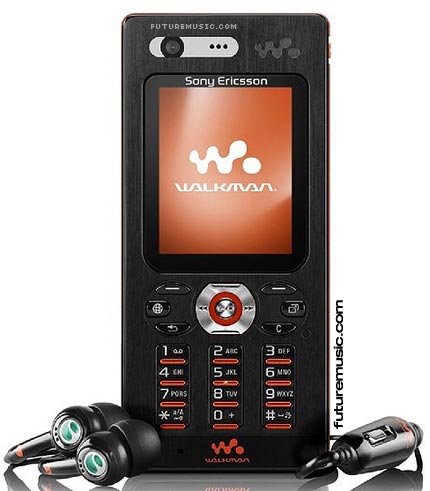 The W610 Walkman phone is all about the detail, whether in design that builds on the look of earlier Walkman phones or the detailed combination of mobile music with a digital camera. The W610 stores up to 470 full-length music tracks on the provided 512MB Memory Stick Micro (M2). It also offers the inventive TrackID music recognition application; a feature that lets you record a clip from the FM Radio and quickly receive a notification of the track name, artist and album. Additionally a 2.0 megapixel camera with auto focus makes the W610 a wonderful fusion of phone, music player & digital camera. The W610 Walkman phone comes in two color options, Plush Orange or Satin Black.
The W880 is one of the slimmest music phones, the true beauty of its design is seen in the brushed stainless steel finish and the stand-out color variants; either Steel Silver or Flame Black. The Disc2Phone music management software allows you to transfer your tracks easily and with no fuss from a PC straight to the phone. With Bluetooth Audio Streaming, all of that music can be enjoyed wirelessly on a Stereo Bluetooth Headset such as the HBH-DS970, or by streaming music directly to a home or car stereo (via the new Music Bluetooth Receiver MBR-100). Importantly for a music phone, all of this functionality has been introduced without having to compromise on battery life. The W880 delivers up to 18 hours music listening time and features a special flight mode for switching off your phone in mobile-prohibited environments.
Sony Ericsson also announced two new music accessories that make your Walkman phone a complete music listening center. Sony Ericsson's Bluetooth Music Receiver MBR-100 enables you to easily listen to the music on your phone in hi-fi sound quality. This discreet accessory streams music via Bluetooth from your phone straight to a home or car stereo, using the phone as a remote control to alter the volume or skip through tracks. The 3.5mm input or RCA cable provided fits most home or car hi-fi systems. The MBR-100 will be available from Q1 2007.
Of course, if you wish to share your tunes you can do this easily with Sony Ericsson's newest set of portable speakers, the MPS-70. Light on power as well as weight, these compact speakers plug into the phone, contain an FM antenna for improved radio reception and will also run off the phone's battery. Available from Q2 2007.
The W610 Walkman phone is an EDGE 850/900/1800/1900 music camera phone and will be available in selected markets from Q2 2007. The W880 Walkman phone is a UMTS 2100 GPRS 900/1800/1900 music phone and will be available in selected markets from Q1 2007. No pricing has been announced.
The Future: When we told you that Apple had only a small window of opportunity to launch the iPhone before the market really heated up, the W880 is the phone we were talking about. Understand, Sony Ericsson's Walkman phones are no slouch at the cash register with 20 million Walkman phones sold to date. Sony Ericsson has a solid head start in front of Apple, but as nice as their phones are, they are not bleeding-edge like the iPhone, and that will matter. However, beware the sleeping giant – Nokia is readying their music cell phone for introduction later this year.