Denon Announces New Headphones
Not another headphone story…yeesh!
Yes, another one. The new headphone announcements just keep rolling in…
Denon has announced five headphone models ranging in price from $50 to $700. With the exception of the Dj oriented DN-HP1000, the new products are the company's first consumer-oriented models.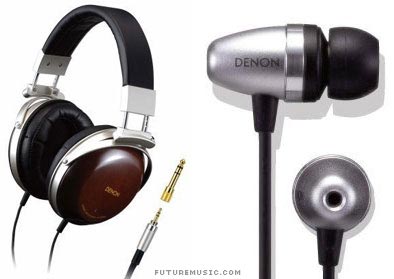 The flagship AH-D5000 phones feature a real wood mahogany housing that Denon claims deliver superior acoustics. We've seen wood enclosures in some other models recently (AKG), so there's obviously something to this besides the aesthetics. The other high-end, circumaural model is the AH-D2000. The AH-D1000 is an earphone (supra-aural) model that's aimed at the high-end iPod market. All three offer Denon's microfiber diaphragm technology, a superdense material that the company claims "increases frequency transmission rates for better sound and detail, affording maximum presence of acoustic sounds with low distortion."
Rounding out the series are two additional earbud models, the AH-C700 and the entry-level AH-C350. Both utilize an in-ear "canal phone" design, and include three different size tips to maximize comfort.
The Denon AH-D2000 will retail for $350; the AH-D5000 for $700; the AH-D1000 for $150, and will be available in black or silver; the AH-C700 for $200 (also available in black or silver); and the AH-C350 for $50, (black or white). All five Denon headphones should be available before the end of February.