Teenager Robert Santangelo Counter-Sues RIAA
This should definitely be a television show! Mark Burnett where are you??!
The New Family Feud took another twist this week when teenager Robert Santangelo, recently a target of the RIAA, filed a countersuit against the trade organization. The RIAA originally sued Robert's mother Patricia Santangelo in 2005, but was later forced to drop the case and redirect its efforts against children Michelle and Robert. Michelle settled quickly, though Robert has regrouped and is embarking on a full frontal assault. Robert's mum Patricia is pictured below: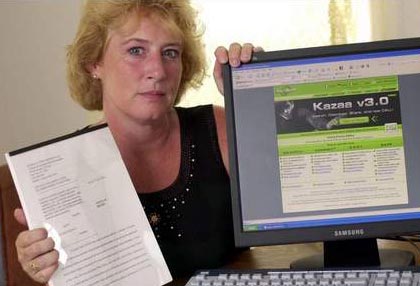 Assisted by attorney Jordan Glass, the teenager has accused the RIAA of collusion, extortion, and conspiracy to defraud the courts. The countersuit also alleges that the trade organization has damaged the reputation of the defendant, and distracted the youngster from his schoolwork, damnit!
That's all well and good, but the real question is whether Robert uploaded copyrighted music to a file trading network. Robert alleges that the RIAA has falsely accused him of file-swapping a number of tracks. Instead, the 16-year old claims that the tracks in question were simply ripped from his sister's CD collection. That leaves a considerable amount of action ahead, though the RIAA appeared resolute. "The record industry has suffered enormously due to piracy. That includes thousands of layoffs," the RIAA said in a statement. "We must protect our rights. Nothing in a filing full of recycled charges that have gone nowhere in the past changes that fact."