Defective Records Releases Major Malfunction – Distortion Plug-In For Ableton's Live
Defective Records has released Major Malfunction, a new Ableton Live distortion plug-in that allows you to easily mangle, glitch, slice and dice your audio stream, in either subtle or extreme ways. Major Malfunction syncs itself to the Ableton Live tempo automatically, and processes the incoming audio in a number of different user-specified ways, or even randomly selected ways. It was created in Cycling '74 Pluggo by Dan Nigrin, a strapping lad who likes to FSU.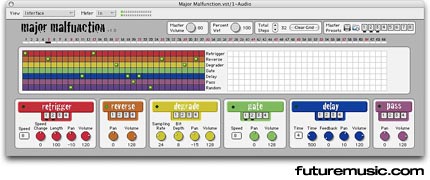 Features:
• Realtime VST/AU plugin effect
• Global volume and dry/wet mix parameters
• Almost every parameter can be automated and controlled via MIDI
• 6 different DSP effects, including "pass through" available to choose from
• Each DSP effect has 4 preset slots, individual volume and stereo pan controls
• 8 different 64 step patterns can be stored in preset slots, and saved to disk
Defective Records' Major Malfunction costs $10 and is available now for Mac OS X. A free demo is also available. More information on Defective Records Major Malfunction.